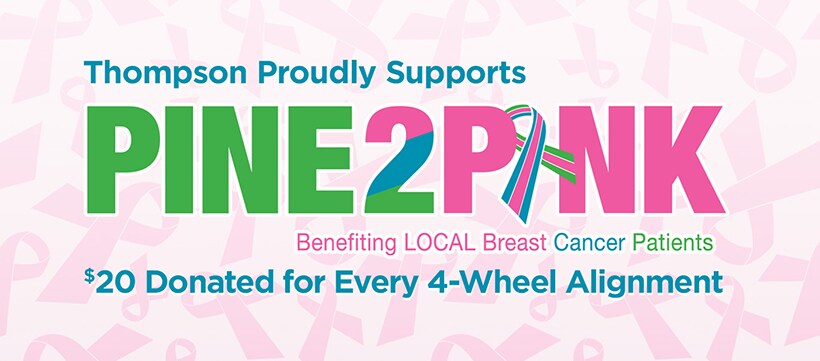 The Thompson Organization Goes Pink
On Thursday, October 1st, we're excited to launch another year of participation with the Pine2Pink initiative. We began this very important partnership with Pine2Pink last year, and are thrilled to continue our relationship with the Doylestown-based organization working hard to raise money to support local breast cancer patients. Money raised has benefited important programs at the Doylestown Cancer Institute, Fox Chase Cancer Center in Buckingham, and Grand View Hospital in Perkasie.
For the month of October, all of the Thompson dealerships are illuminated bright pink in support of breast cancer awareness. A truly beautiful spirit washes over the community throughout the month, as everyone pitches in to help raise money for the cause. Through the Align with Thompson initiative, we donate $20 for every 4-wheel alignment at any of our dealerships throughout the month of October, including
Thompson Toyota
.
On Saturday, October 10th, Thompson Toyota will also be partnering with Pine2Pink to host a vehicle Conga Line Car Parade. Local breast cancer survivors and patients will begin at Thompson Toyota and wind their way through New Hope, Carversville, Peddler's Village, Doylestown, and Perkasie, collecting others along the way. Joining together in unity, the line of vehicles will end at Thompson Toyota at routes 313 and 611 in Doylestown. A socially aware celebration will then follow to honor all whose lives have been touched by breast cancer. This event is open to the public and all are welcome.